Berlin is back on the map
Before the Corona Crisis shook the world and Berlin tourism in 2020, in 2019, Berlin celebrated the 30th anniversary of the fall of the Berlin Wall– and was wondering how to go one better than the 25th anniversary celebrations on 9 November 2014. Back then, Berliners joined guests from around the world in an unforgettable celebration at the Brandenburg Gate and along the former border route with a light installation whose images went around the world. Over the years, Berlin established itself as an internationally popular city destination.
Due to the Corona Crisis, Berlin tourism will need staying power to build on the successful figures of 2019. With over 34 million overnight stays by around 14 million visitors in hotels and guesthouses in 2019, Berlin weighed in at third place for European city trips after London and Paris.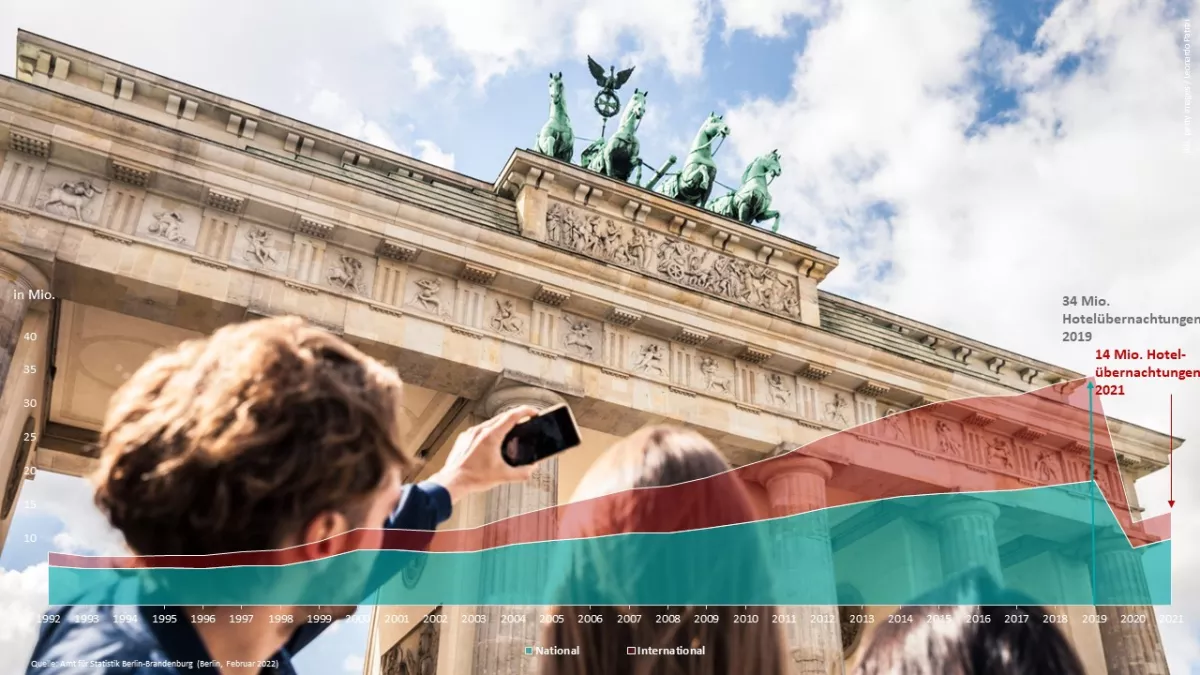 Berlin is still home to the spirit of freedom. This special atmosphere attracts artists from all over the world and has brought us internationally renowned major events such as Christo's Wrapped Reichstag in 1995, the MoMA, hosted twice by the city in 2004 and 2007, or exhibitions by such globally renowned artists as Ai Weiwei. The Fan Mile for the 2006 FIFA World Cup has also gained legendary status, with Berlin presenting its own inimitable character on the grand stage – cosmopolitan and hospitable.
Since the Fall of the Wall, there has been a fivefold increase in the number of hotel guests until 2019, Berlin is growing steadily and remains in a constant state of development - the State Opera House Unter den Linden is back, the James Simon Gallery was opened, completing Berlin's Museum Island, and the Humboldt Forum also opened its doors. With the opening of the capital's airport BER, a modern air hub connects Berlin with all major hubs in Europe. The city will benefit greatly from BER after the Corona crisis.