Berlin needs you!
A network for work experience for young people in Berlin from minority ethnic backgrounds (BQN)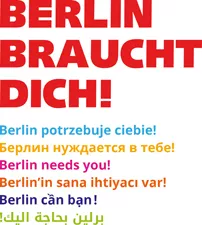 Since 2009, visitBerlin has been supporting the "Berlin needs you!" project launched by the Berlin Senate. visitBerlin actively purses the aim of making it easier for young people from families with minority ethnic backgrounds to find training positions and enter the world of work. At the same time, this allows visitBerlin to gradually reflect the city's population structure, which is influenced by immigration, in the structure of its own staff.
To support the transition between school and the working world, visitBerlin has implemented a "four qualifying stages" model, progressively increasing contact with the company. For pupils interested, the contact begins in Grade 7 with a visit to visitBerlin to gain an initial insight into the company. In Grade 8, the pupils then have a trial work experience period of one week. This is followed by a three-week placement during the next school year to see if this field of work appeals. In Grade 10, The fourth and final stage includes an 'application day' simulating an assessment centre and teaching application skills.
More details on www.berlin-braucht-dich.de