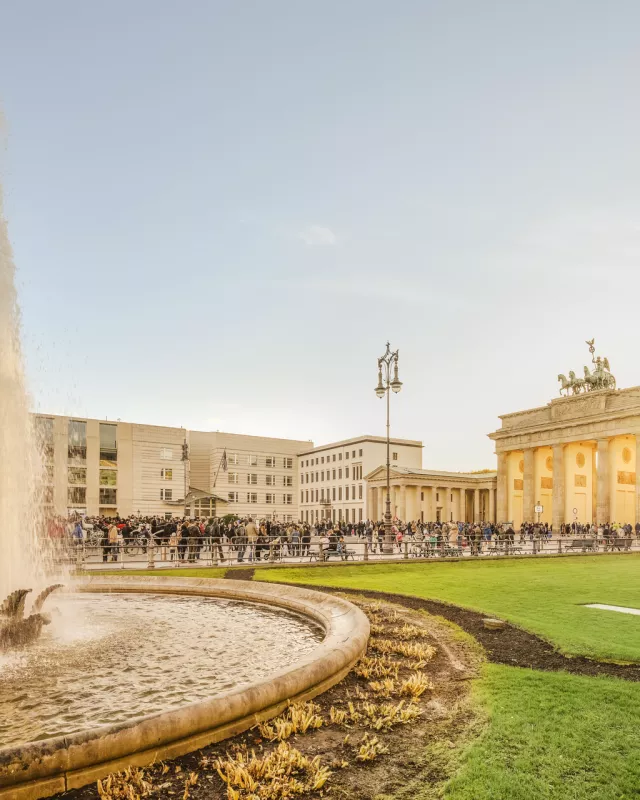 Current figures on expenditures per purchase: Visitors from Asia, Russia, Ukraine and the Arab Gulf States are enjoying high-end shopping in Berlin
Berlin Draws Luxury Shoppers
Berlin, 20 September 2013 On Sunday, 22 September 2013, numerous shopping tourists from across Germany and abroad were expected to flock to Berlin during Berlin Art Week. Affluent visitors are a rapidly growing tourist group in the German capital. Increasing numbers of well-to-do tourists from China (+30.4% overnight stays from January to July compared to 2012), Ukraine (+29.5%), Russia (+27.8%) and the Arab Gulf States (+15%) take advantage of the luxury shops in Berlin during their visit.
Burkhard Kieker, CEO of visitBerlin, remarks: "Berlin is a shopper's paradise and is establishing itself more and more as a destination for travellers with high-end tastes. This segment has been a marketing focus for visitBerlin for quite some time. Shopping plays a major role particularly for our Chinese visitors."
Chinese visitors to Berlin are in the lead, spending €634 per purchase
With an average of €317 per tax-free purchase (+4.3% compared to the same period last year), a recent study by Global Blue* confirms the continued interest of international shoppers in Berlin. Tourists consider Berlin Germany's best city for department stores, with KaDeWe and Galeries Lafayette mentioned as popular examples. Visitors from China are especially eager to spend, with an average of €634 per purchase, followed by visitors from Thailand with €546 per purchase. Other affluent guests include those from Ukraine (€433), Russia (€356) and the Arab Gulf States (€337), who mostly consume fashion, jewellery, leather goods and electronics. In comparison, on average, visitors to Berlin spend a total of €204.70 per day.
The study "The Tourism and Convention Industry as Economic Factor for Berlin" by visitBerlin showed that 47 per cent of tourists visit the German capital to shop. 60 per cent of Berlin's visitors spend their time in the city shopping. A total of €3.95 billion is spent on retail purchases each year by tourists.
Berlin: A Destination for Luxury and Shopping
From haute couture to high-culture: With 26 five-star hotels and a total of 16 Michelin stars awarded to 12 restaurants, Berlin is becoming an important destination for connoisseurs of luxury from around the world. In addition to luxurious hotels, designer shops and high-end department stores can be found across the German capital. At the same time, the city's many young designers and fashion start-ups put Berlin at the avant-garde of fashion trends. Attractive shopping areas and late-night shopping events add to the attractiveness of Berlin as a shopping destination. Special shopping days are scheduled for the Festival of Lights in October, during November and for two Sundays leading up to Christmas. More information can be found at exclusive.visitberlin.com.