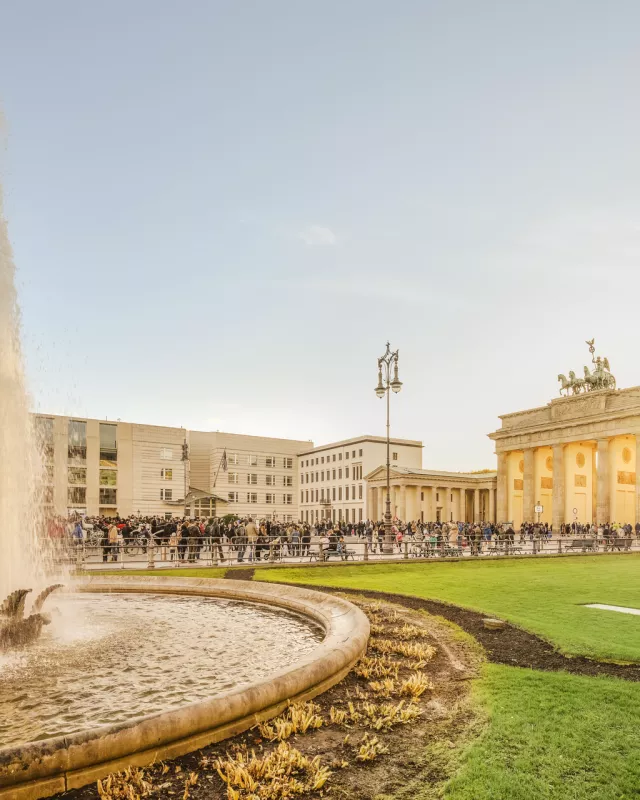 The Party between Brandenburg Gate and Siegessäule: one of the world's largest events at the turn of the year / Organisers want to break the dance mob record at the Brandenburg Gate / visitBerlin expects two million visitors to the capital
Berlin: New Year's Eve party to attempt record "Gangnam Style" flash mob
Berlin, 28 December 2012 Berlin wants to start the New Year off with a record: The million guests expected at the Brandenburg Gate New Year's Eve party are going to be learning the Gangnam Style dance for a flash mob to be aired live on TV at 11.30pm. The previous flash mob record stands at 80,000 people.
"Berlin is planning something big and will once again show that it ranks with New York and Sydney as THE place to party on New Year's Eve", says visitBerlin CEO Burkhard Kieker. "There is a constant flow of images going around the world that show Berlin as a cosmopolitan party city where a million people can gather in peace to welcome the dawn of a new year. For 18 years, the New Year's Eve party at the Brandenburg Gate has been priceless advertisement for Berlin. Many thanks to Willy Kausch for bringing such a great idea to life."
At the Brandenburg Gate, the New Year kicks off with 6,000 rockets and eleven minutes of fireworks shot into the sky at midnight. The New Year's Eve Party in Berlin presents a varied stage programme of international music stars, famous rock and pop bands as well as live acts. Loreen, the winner of the 2012 Eurovision Song Contest and singer of "Euphoria", will be on stage followed by the Pet Shop Boys at midnight.
The spectacle will be aired by more than 150 TV channels all over the world. Last year, 18.7 million viewers in Germany alone watched the Berlin celebration.
Two million visitors expected in Berlin
If you'd like to spend New Year's in Berlin, you should book your hotel room now. Around two million visitors to the capital are expected to celebrate the New Year in Berlin. visitBerlin expects hotels to be fully booked, especially this year given New Year's falls on a Monday and many visitors are expected to be coming for a long weekend of partying.
Visitors can go to visitBerlin.de to make travel arrangements and bookings. Bookings can also be made by calling the Berlin Service Center at +49 (0) 30-25 00 25. More information about New Year's Eve at the Brandenburg Gate can be found at brandenburger-tor-berlin.de.
(2.074 characters)