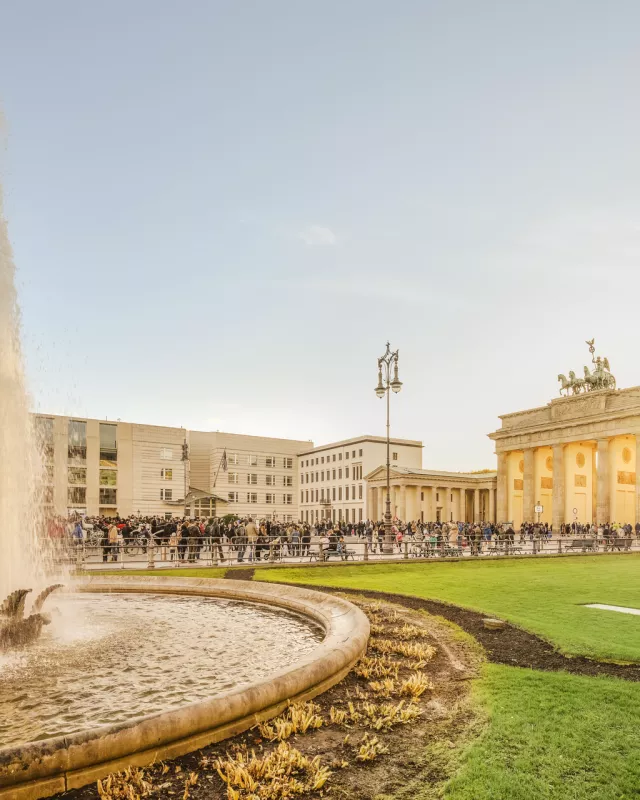 New app presents Berlin's neighbourhoods / Cycling tours is shared at joint Berlin-Brandenburg stand / visitBerlin shows UEFA Champions League trophies
ITB Berlin 2015: visitBerlin presents a cosmopolitan, liveable city
Berlin, 27 February 2015 ITB Berlin opens its gates once again this year from 4 to 8 March. At the world's largest travel trade fair, Berlin presents itself as a holiday destination together with the surrounding state of Brandenburg in Hall 12.
'Berlin is the showcase for the world's biggest travel fair. We present our national and international guests with a cosmopolitan tourism and convention destination. In expert discussions we put Berlin on the agenda of the international travel industry,' says visitBerlin CEO Burkhard Kieker. "We invite you to take a closer look on the visiting days: with the new app, "Going Local Berlin", as well as on tours through the bicycle metropolis. Berlin is currently writing a strong comeback story as a world city. Guests from all over the world can experience high and subculture, the relaxed atmosphere, and authentic historical locales.'
The focus this year will be on Berlin as a liveable city, in the cycling tours area, guests can take virtual rides along different routes in Berlin and Brandenburg and download the corresponding information directly onto their smartphones. In addition, visitBerlin is presenting its new "Going Local Berlin" app, a tool to help visitors explore Berlin's diverse neighbourhoods. The "Berlin Bar", meanwhile, will feature various bars from across the city offering samples of their best cocktail creations.
In addition, about 80 touristic partners including attractions, hotels and Berlin's districts will be on hand to inform visitors about their individual offerings. This year, the UEFA Champions League is also a star attraction, with the trophies to be presented to the winners of the women's final on 14 May and the men's final on 6 June, both being held in Berlin. football.visitBerlin.com
Going Local Berlin – Discovering Berlin's neighbourhoods
Berlin's heart beats in its neighbourhoods. Berlin will be presenting visitBerlin's brand-new app "Going Local Berlin" in Hall 12. The app lets users explore the unique atmosphere of each Berlin district, complete with tips, tours, event listings and short videos about all 12 districts. Using tablets available at the ITB stand, visitors can go local with virtual tours of Berlin's typical rear courtyards. The new app is also available here: app.visitBerlin.com
Berlin Bar offers samples
Berlin's nightlife is famous all over the world, with its clubs and wide range of bars a magnet for visitors from both Germany and further afield. A rotating sample of the city's best bars will be on hand at the mobile "Berlin Bar" to present samples of their cocktails; participants include the Catwalk Bar, Hard Rock Café, the Duke Bar and the Ritz Carlton Curtain Club.
On two wheels through Berlin and Brandenburg
The joint focus of the Berlin and Brandenburg stand this year is cycling. The stand will provide expert advice and the chance for visitors to take virtual rides on segments of some popular tours. The monitors will show videos of cycling paths such as the one from Berlin to Copenhagen or selected Berlin neighbourhood tours that can be explored in virtual reality with the cycling simulator.
visitBerlin Events in conjunction with ITB Berlin 2015
"The Sharing Economy: Turbo or Explosive in Tourism Destinations?" Burkhard Kieker, CEO of visitBerlin, will address this topic at 10:45 am on 5 March 2015 in Hall 7.1a, New York Room 1.
This year's ITB also offers many events for bloggers: At noon on 3 March, the visitBerlin blogger relations team in cooperation with the ITB Blog Camp are planning a photo scavenger hunt to Berlin's Teufelsberg with 20 international bloggers. The Travel Massive Event follows in the evening, with visitBerlin as one of its sponsors; this is an event for travel bloggers and the tourism industry to network. In addition, Claudia Sult, member of the visitBerlin blogger relations team, will be speaking at 1 pm on 4 March 2015 on the eTravel Stage in Hall 6.1 about whether bloggers should be paid for their work. visitBerlin will also be on hand for the blogger speed dating on 4 and 5 March, providing information about Berlin as a travel destination. https://travelmassive.com/events/travel-massive-itb-berlin, http://www.itb-berlin.de/Aussteller/SpeedDating/BloggerSpeedDating
visitBerlin Events at ITB 2015
Tue, 3 March 2015
from 7 pm: Travel Massive – in cooperation with visitBerlin, G Adventures and Abacus Ventures and supported by ITB Berlin
- Location: Gretchen Club, Obentrautstraße 19-21, 10963 Berlin
- By registration only at: https://travelmassive.com/events/travel-massive-itb-berlin
Wed, 4 March 2015
12am-1pm. Stand Tour by Governing Mayor of Berlin, Michael Müller
- Location: Berlin-Brandenburg Stand, Hall 12
Photo session of the Governing Mayor of Berlin, Michael Müller, with Hainan Airlines, reprentative of Berlin Brandenburg Airport, and Burkhard Kieker, CEO of visitBerlin
- Location: Berlin-Brandenburg Stand, Hall 12
- Occasion: Hainan Airlines is increasing the frequency of its flights and will begin daily flights from Beijing to Berlin in June 2015
1 pm – 2 pm
Panel discussion "Should bloggers be paid?"
- Location: Hall 6.1, eTravel Stage
- Panel guests:
Melvin Boecher, founder and CEO, Traveldudes
Nicholas Montemaggi, Digital Press Officer, Emilia Romagna Tourist Board
Claudia Sult, Project Manager Blogger Relations, visitBerlin Press Office
Yvonne Zagermann, travel blogger, justtravelous.com
Thu, 5 March 2015
10.40 am – 10.45 am
Opening speech for ITB Destination Day 2 on "Challenges and opportunities facing international destination management," Sophia Quint, visitBerlin
- Location: Hall 7.1a, New York Room 1
10.40 am – 6.00 pm ITB Destination Day 2
- Location: Hall 7.1a, New York Room 1
- Programme:
10.45 am – 11.45 am
Keynote Panel: ""The Sharing Economy: Turbo or Explosive in Tourism Destinations?"
Panel guests:
Roman Bach, Managing Director, 9flats
Dr Jörg Kahler, lawyer, GSK Stockmann und Kollegen
Burkhard Kieker, CEO, visitBerlin
Markus Luthe, CEO, German Hotel Association (IHA)
Dr Jens Wohltorf, Co-Founder and CEO, Blacklane
Thu/Fri, 5-6 March 2015
4.30 pm – 6.00 pm Blogger Speed Dating
- Location: Hall 7.3, Berlin Room
- visitBerlin networking with bloggers from around the globe at the presentation of Destination Berlin and the new "Going Local Berlin" app app.visitBerlin.com
- Registration is already closed.
Sat, 7 March 2015
9.30 am – 12 noon, Pink Breakfast (LGBTi gathering for ITB)
- Location: Steigenberger Hotel Am Kanzleramt
- Traditional LGBTI networking event organised by visitBerlin and the hotels of the pink pillow Berlin Collection: Berlin is one of the most attractive destinations for the lesbian, gay, bisexual, trans and intersex communities (LGBTI). Tour operators and LGBT guests will gather for the LGBT breakfast.
- Advance registration required: http://partner.visitberlin.de/de/formular/einladung-zum-pink-pillow-berl...
Sat/Sun, 7-8 March 2015
10 am – 6 pm, Entertainment programme for ITB attendees
- Location: Berlin-Brandenburg Stand, Hall 12
- Programme: Cocktail tasting at the Berlin Bar, bike simulation and information on cycling through Berlin and Brandenburg, testing the new "Going Local Berlin" app, photo opportunities with the UEFA Champions League trophies, walking acts, including the mascots of Berlin's professional sports clubs
Media Contact at ITB
The visitBerlin Press Office will be represented at the Berlin-Brandenburg stand in Hall 12. The following team members will be available for interviews in person, by phone or by email:
Christian Tänzler, Press Officer/Media Relations Manager: +49 (0) 171 -86 43 124
christian [dot] taenzlervisitBerlin [dot] de
Katharina Zierenberg, Deputy Press Officer: +49 (0) 171 -72 647 510
katharina [dot] zierenbergvisitBerlin [dot] de
If you'd like to arrange a longer conversation, we recommend making an appointment.