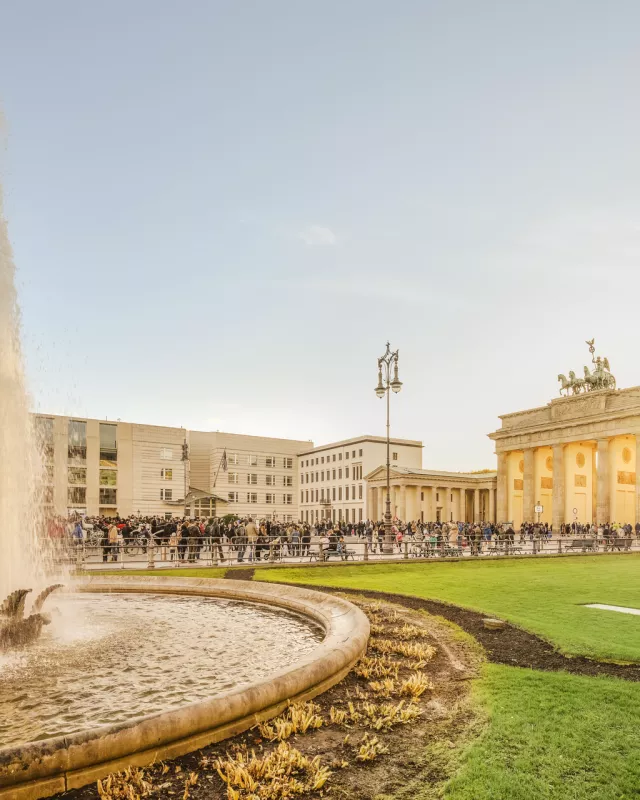 visitBerlin and be Berlin to present trend products made in Berlin in pop-up stores in five European capitals
"Pop into Berlin": Berlin goes on European tour
Berlin, August 2015 Under the motto "Pop into Berlin", visitBerlin in cooperation with be Berlin will open pop-up stores in five European cities starting in September to market Berlin as creative, innovative and liveable metropolis. The stores will open for one week each in top inner-city locations in Stockholm, London, Vienna, Amsterdam and Paris to showcase innovative and trendy Berlin brands and start-ups.
People across Europe and visitors to those cities will get to experience the creative potential of Berliners working in the fields of design, fashion, furniture, food, lifestyle and technology. Visitors will be invited to learn about Berlin as a tourist destination and become excited about Berlin's creative spirit and its role as an exciting centre for high-tech and start-ups.

Cornelia Yzer, Berlin Senator for Economics, Technology and Research: "We like to say that Berlin is always in motion and, as we send our city out on tour to showcase its unique way of life and innovations "Made Berlin", it will be clear that this description does not fit any other city in Europe better. Packing up a bit of Berlin and taking it on tour is a great idea for creative city marketing."
Burkhard Kieker, visitBerlin CEO, comments: "For the first time, we're taking Berlin brands out on a European tour of our core markets. The pop-up stores will deliver an authentic Berlin feel by showcasing the latest trendy products: a Berlin original that can be experienced locally and taken home. But it won't just be labels and Berlin's creative side on tour this autumn. Ambassadors from the world of Berlin politics and business will be participating in joint Berlin events designed to promote Berlin and encourage people to visit our city."
Stefan Franzke, Managing Director of Berlin Partners for Business and Technology:" Berlin is the creative workshop for Europe's tech and digital scene. In Germany's start-up capital, entrepreneurs get the tools they need to turn their idea into a successful long-term business: the willingness of established companies to collaborate, an exemplary research environment, and the necessary start-up capital. On our European tour, we will be showcasing fine Berlin entrepreneurs who have built successful businesses with the help of the great toolbox our city offers."
Trendy, High-Quality Labels from Berlin
visitBerlin will be presenting the German capital with a wide range of innovative products in the fields of design, fashion, furniture, gastronomy and lifestyle offered by companies as diverse as solo start-ups, makers of regional food products that are hits in Berlin's street food scene, and popular, long-established Berlin brands.
Fifteen companies will offer their innovative ideas and products for sale in the pop-up stores. The products offered by the companies cover the whole gamut from local spirits and liqueurs to design and furniture made in Berlin. Visitors to the pop-up stores can get the latest ic! Berlin eyewear, sophisticated designer bicycles by Standert, or stylish natural cosmetics by Und Gretel, a true Berlin start-up founded just in February. Visitors can also treat their palates to a typical Berlin mix on offer at the pop-up store: Brlo, a sustainably brewed craft beer from Mitte, sampler packets from Try Food, or original Berlin street food from Retos Candyfarm, known from Kreuzberg's trendy Markthalle Neun.
International visitors also love products decorated with Berlin's famous "AMPELMANN", the distinctive East German figure at pedestrian crossing lights. Whether affordable accessories or high-end designer pieces, the mix offered in the pop-up stores is intended to create further interest and desire to visit Berlin. The design and furniture pieces in the pop-up stores are being curated by Minimum – Design aus Berlin.
Berlin, the Start-Up Capital
be Berlin is bringing five Berlin-based start-ups on tour to Berlin pop-up stores being set up in five European capitals this autumn. The goal is to make Berlin's vibrant start-up scene tangible to fellow Europeans. It's not for nothing that Berlin enjoys the reputation of being a booming centre for the tech and digital entrepreneurs of the future: the examples of Rocket Internet and Zalando are great examples of companies coming out of the Berlin start-up scene growing to the point of having IPOs and being listed on the stock market. Even investors have realized that it pays to put their money on ideas and innovations from Berlin. With $2.2 billion venture capital in 2014, Berlin has pushed past London and is now the top city for venture capital investment in Europe. The proximity of established industry and the new economy is part of Berlin's success formula: traditional companies appreciate the innovative strength of the start-ups and are working with them on technologies for the future. For example, 3yourminD and BigRep will be presenting the latest 3-D printing technology in the pop-up stores and Panono will be showing the world's first 360° camera to be launched on the market from September 2015. Raumfeld will be providing the right sounds with wireless audio systems, while VFX Box, a young Berlin-based company specialising in special effects and animations, will be projecting its little robot Myon in the stores via augmented reality.
Programme with Berlin Night and Product Promotions
The stores will also feature a colourful mix of Berlin cultural, entertainment and product presentations. In each city, a Berlin Night will be held with invited guests and a top-class cultural programme. In addition, an investor panel will address Berlin's potential for business. The participating labels and start-ups will also offer other promotions and event formats, including the smallest disco in the world in a phone booth (complete with disco ball).
More information about the promotions and the planned Berlin Nights can be found at www.popinto.berlin. Live updates can be followed under hash tag #popintoberlin.
The 2015 "Pop into Berlin" Tour Schedule
Stockholm, Sweden
21–27 September
London, England
5–11 October
Vienna, Austria
2–7 November
Amsterdam, the Netherlands
16–22 November
Paris, France
7–12 December