Première: Berlin Convention Office at Meetings Show in London
Special feature: tape-art map for visitors to explore and interact with Berlin
BCO partners with Berlin hotels, venues, and agencies to present Berlin as meetings destination
Berlin, 12. Juni 2017 Erstmals präsentiert sich das Berlin Convention Office (BCO) von visitBerlin auf der Meetings Show in London, dem wichtigsten Event der britischen Tagungswirtschaft.
Zwischen dem 13. und 15. Juni sind Berlins Kongress-Experten des BCO sowie zehn ausgewählte Berliner Hotels, Locations und Agenturen am Stand E500 präsent. Sie zeigen neben den Klassikern der Kongressmetropole auch aktuelle Trends und die Neuzugänge der Hotel- und Location-Landschaft – ein starkes Netzwerk für den Erfolg jeder Veranstaltung in Berlin. Bereits am Vortag kommen im Barbican Centre bei der Association Meeting Conference 160 Verbände zusammen – hier ist das visitBerlin Berlin Convention Office einer der Hauptpartner.
"Berlin zählt zu den weltweit führenden Kongress-Städten. In London informieren wir über die aktuellen Entwicklungen im Berliner Meetings- und Events-Markt", sagt Heike Mahmoud, Director Conventions des visitBerlin Berlin Convention Office. "Berlin ist inspirierend und eines der europäischen Epizentren der Tape-Art-Bewegung. Unsere moderne Berlin-Karte im Tape-Art-Stil wird ein Besuchermagnet sein, der großen kreativen Spielraum lässt, und wir zeigen vor Ort mit unseren Partnern, wie Kunden für ihre Veranstaltung von unserem Know-how, Netzwerk und Service profitieren können."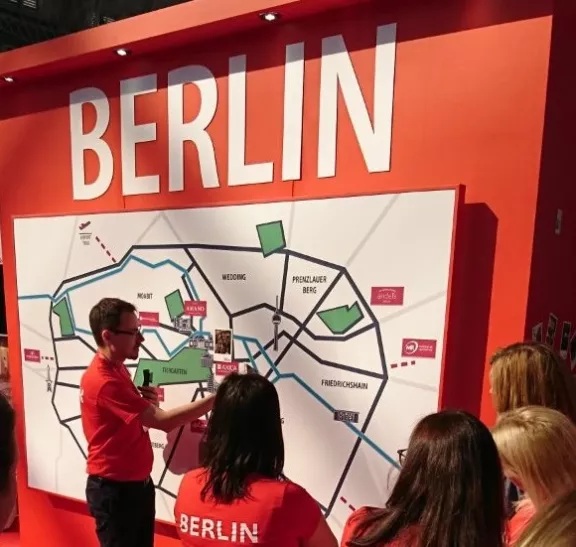 Berlin, 12 June 2017 For the very first time, the visitBerlinBerlin Convention Office will be taking part in The Meetings Show London, the most important gathering for the British meetings industry.
Between 13 and 15 June, experts from the Berlin Convention Office and representatives of ten selected hotels, venues, and agencies will be showing all that Berlin has to offer at Stand E500. In addition to the city's classic offerings, the stand will feature current trends and the latest hotels and locations to join the strong network of providers that ensure the success of any every event in Berlin. The day before at the Barbican Centre, 160 associations will assemble at the Association Meeting Conference where the visitBerlin Berlin Convention Office is one of the main partners.
"Berlin is one of the world's leading cities for conventions and meetings. In London, we will be informing visitors about the latest developments in the Berlin meeting and events market", says Heike Mahmoud, Director Conventions of the visitBerlin Berlin Convention Office. "Berlin is inspiring and one of the European epicentres of the Tape Art movement. Our modern Berlin map in a tape-art style will draw in visitors by giving them room to express themselves creatively, while we and our partners demonstrate just how much customers can benefit from our expertise, network, and services for their next event."
Modern Tape Art, Berlin Style: Interactive City Map at the Exhibition Stand
One special feature at The Meetings Show stand will be an interactive Berlin map which will use adhesive tape and a carpet knife to create a map in the street art style known as Tape Art. The map will not only visitors where they can find BCO partners, but also some of the most popular spots in the city. And those who have visited Berlin before will be invited to mark their favourite spots on the map with Polaroids and to pass on tips to other visitors. The Berlin city map will thus take on a design of its own and become a one-of-a-kind masterpiece.
New service for event planners: convention.visitBerlin.com
The BCO is also presenting a new website at London convention.visitBerlin.com. It offers a variety of tools that make it an essential tool for event planning. The Meeting Guide Berlin is integrated into the new site. This extensive search enginelists some 360 offerings which event planners can select from for optimal, easy planning of their next meeting, convention, or incentive.
The Convention Kit is also available at convention.visitBerlin.com. It is comparable to a shopping basket on e-commerce sites: planners can put the information they need to plan, organise, and execute their events into the kit and then download it directly for later reference. They have access to an extensive selection of Berlin-related images and texts, restaurant recommendations, convention statistics, and presentations about the German capital, among other highlights.
Also new is the Meetings Calendar that lets users filter events by scheduled dates and industries through 2020. The calendar also contains selected Berlin highlights for the coming year. The new BerlinMeetings blog provides inspiration and practical tips for event organisers.
Another new service from the BCO is the Berlin Speakers Pool which helps event organiser find suitable high-calibre speakers, local experts, and moderators for their programme to further ensure successful and inspiring events.
The future is open for discussion in Berlin
Berlin is international, creative, and open-minded and inspires and attracts talent from all over the world. The city is now considered a major centre for science and start-ups in Europe and is a sought-after location for events that deal with the global future. Berlin's MICE industry not only offers high-quality service, it is also closely linked to the city's technology and science scenes. These include world-renowned universities, more than 22 technology parks, and some 2,000 start-up companies. This environment makes the city an ideal venue for future-orientated events.
Press material