Promote with the Berlin Convention Office
On the move with the visitBerlin Berlin Convention Office
The visitBerlin Berlin Convention Office team is represented at the most important trade fairs, workshops and congresses across the world. For instance, you can present and participate as a sub-exhibitor at one of the international trade fairs for the congress business, at IMEX Frankfurt. In addition to the classic trade fairs, we also organise our own events and conferences such as BESTIVAL or the Berlin MICE Summit.
Events marked with a ★ star have the option of partner participation.
3rd Quarter - July to September 2023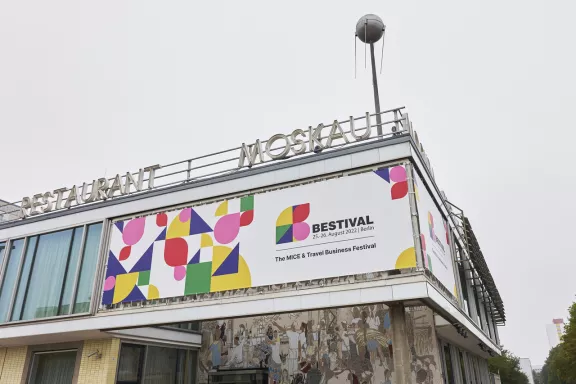 06.07-07.07.23 – BESTIVAL, Berlin 

★
It is the face-to-face encounter that lends a special flair to our lives and, in particular, to our industry. On 6 and 7 July 2023, you will experience Berlin in a unique business festival that will delight and inspire everyone. You will have the opportunity to meet new and well-known business partners, to discover new things in the city or to be personally motivated and educated.
The BESTIVAL is a business festival geared towards travel experts and event planners. 
Are you interested in becoming part of BESTIVAL 2023 as a Berlin Partner? If so, please send an email to partner-bestival@visitBerlin.de and we will inform you about the various opportunities for participation.
Contact person from the Berlin Convention Office:
Tim Bernhard
Junior Project Manager Conventions
tim.bernhard@visitBerlin.de
Thanks to the support of the Senate Department for Economics, Energy and Operations, it is possible for us to keep the costs of participation to a minimum. 
25.09.-26.09.23 – INFOTAG Associations, Berlin (live) ★
More information to follow soon.
Interested? get in touch with us now! 
Contact person from the Berlin Convention Office:
Gritt Kalkutschke-Herzberg
Senior Marketing Manager Conventions
g.Kalkutschke-Herzberg@visitBerlin.de
September, tba - German Action Days on Sustainability, Berlin (live) ★
German Action Days on Sustainability and Sustainable Meetings Berlin Clients Event
The German Action Days on Sustainability are part of the European Sustainability Week, an initiative launched by Germany, France and Austria in which people from all over Europe can participate.
The objective of the Action Days is to showcase exemplary commitment throughout Germany, to draw public attention to the issue of sustainability and to encourage more people to act in a sustainable fashion. Each of us can change something to help make a difference. In this spirit, the Sustainability Action Days are targeted at all people in Germany. 
We have put together a varied programme with sustainable partners and exciting initiatives.
Interested? get in touch with us now!
Contact persons from the Berlin Convention Office:
Kyra Reiter
Marketing Manager Conventions, Sustainable Meetings Berlin
kyra.reiter@visitBerlin.de
Isabell Bernhardt
Business Development Managers Conventions
isabell.bernhardt@visitBerlin.de
4th Quarter - October to December 2023
Vergangene Termine
1st Quarter - January to March 2023
2nd Quarter - April to June 2023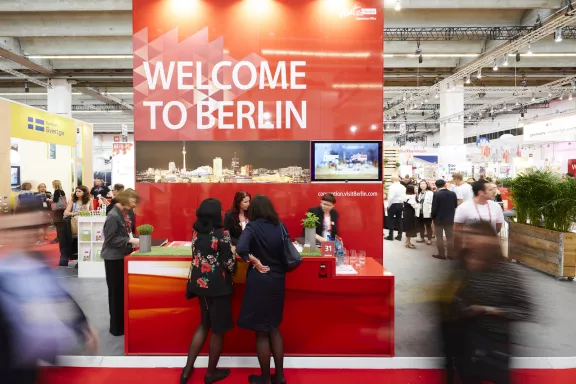 23.05.-25.05.23 – IMEX, Frankfurt 

★
At IMEX Frankfurt, more than 7,800 trade visitors meet 3,400 exhibitors from over 170 countries. As such, it is the world's most prestigious trade fair for the meetings, incentive travel, congress and event industry. During the fair, exhibitors and visitors can choose from around 250 seminars on the three days of the fair. This means that special emphasis has been placed on the topic of continuing education at the fair.
The visitBerlin Berlin Convention Office will be represented with its own Berlin stand. A maximum of 15 partners are allowed to participate.
We have a special offer for our partners which includes a special package of € 3,170 (net) + € 950 for marketing costs and catering in Berlin.
06.06.-08.06.23 - m&i Healthcare Forum, The Hague
m&i Healthcare is a professional event with approx. 200 participants specialising in events in the healthcare, pharmaceutical and medical sectors. In addition to 1:1 appointments, the programme features expert presentations, panels, interactive sessions and networking events.
The BCO represents all Berlin partners on site. All interested parties may register voluntarily.
Interested? get in touch with us now!
Contact person from the Berlin Convention Office: 
Aline Thalmann
Senior Marketing Manager Conventions
aline.thalmann@visitBerlin.de
17.06.-18.06.23 – P×P Festival 2023 – Schule feiert Zukunft
Das PxP Festival wird als Konferenz - und Musikprogramm am 17. und 18. Juni 2023 im Berliner FEZ stattfinden. Das BCO ist dabei, wenn 100 namhaften Speaker:innen, wie Andreas Schleicher, Verena Pausder, Bob Blume u.v.m ihre Visionen von zukunftsfähiger Schule teilen. Wir sprechen mit der Future Skills Alliance - den führenden Bildungsexpert:innen, Initiativen, Organisationen, Unternehmen und der Generation Z und bringen uns aktiv mit ein, wenn es heißt, sich für Chancengleichheit in einem zeitgemäß und zukunftsfähig gestalteten Bildungssystem in ganz Deutschland einzusetzen und damit gegen den Fachkräftemangel von Morgen zu wirken.
Tickets und mehr Informationen zum PXP gibt es hier.
Ansprechpartnerin aus dem Berlin Convention Office:
Melanie Schael
Business Development Managerin Conventions
melanie.schael@visitBerlin.de
28.06.-29.06.23 – THE MEETINGS SHOW, London ★
The show welcomes exhibitors from the UK and around the world each year, including a diverse range of hotels, destinations, destination management companies, conference centres, venues and technology providers. At the show, you will gain insight and be inspired by the leaders in the industry thanks to a comprehensive educational programme. Presentations will be held in a variety of formats including: Panel discussions, presentations, workshops and Q&As. 
Capacities: max. 3 partners
Price: € 4,000
Interested? get in touch with us now! 
Contact persons from the Berlin Convention Office:
Isabell Bernhardt
Business Development Managers Conventions
isabell.bernhardt@visitBerlin.de
Robert Luft
Senior Business Development Manager
robert.luft@visitBerlin.de
Do you have more questions?
Would you like to know what other possibilities are available for partners to work together with the Berlin Convention Office? Get in touch with us!
Contact person from the Berlin Convention Office:
All Contacts
Our marketing strategy for 2023 including opportunities for participation can be downloaded here as a package: