Berlin's largest Open-Air Gallery
Interview: Kimo von Rekowski, The Dixons
Kimo von Rekoswki has become an integral part of Berlin's street art scene. Together with the Dixons, a group of Berlin artists, he caused a sensation in 2017 with his spectacular urban art project "The Haus". The street art exhibition in a demolition house, which was only accessible for a limited time, attracted 78,000 visitors to Nürnberger Straße on Ku'Damm. In May of this year, the next project followed with the Mural Fest: more than 100 national and international street art artists created elaborate murals all over the city - and transformed Berlin into a single large open-air gallery. We talked to Kimo about the Berlin street art scene, the special charm of the capital, and his next projects.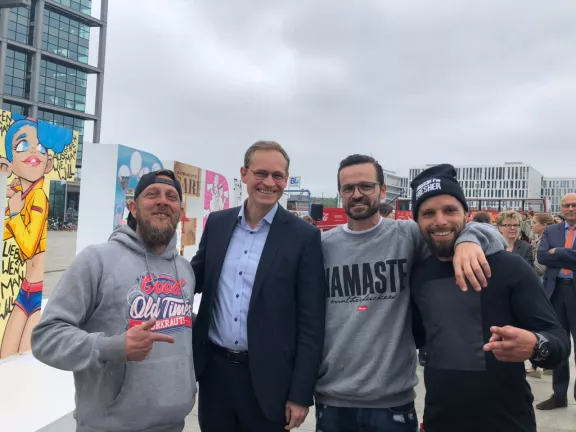 visitBerlin (vB): Why is Berlin such a special place for the street art scene and its artists?      
Kimo: Art in public space suits Berlin, since Berlin itself lives from subculture. There have always been opportunities for new things in Berlin and things are not always taken so seriously. Precisely because of this openness and sometimes also ignorance there is the possibility to "just do something".      
Historically, there have been wall paintings in Berlin for a long time - whether in an artistic context or wall paintings for advertising purposes. Which is why we believe that this is an essential part of Berlin's identity. But we shouldn't lump everything together - many artists use the same tools, but want to express different things with their actions.
vB: What is Berlin's reputation in the international street art scene?
Kimo: Berlin is an internationally recognised metropolis for art and urban art. Tourists visiting Berlin can book street art tours and be captivated by all the art that can be seen in public spaces. From an international perspective, many people automatically associate Berlin with street and urban art. Nevertheless, Berlin should invest in precisely this perception - not necessarily financially - in order to maintain this position and keep up with other urban art metropolises such as New York and Amsterdam.
vB: How do you see the future of street art in Berlin? Do you have new projects coming up and will the city become even more colourful?
Kimo: There will always be street art in Berlin and the city will also become more and more colourful. I think that the topic is currently receiving more attention than ever before. But as with all kinds of hypes, it will simmer down again. Nevertheless, it will always play a role and the next hot gossip about art will also come from us - what that will be, however, is still written in the stars.
vB: What is the feedback from residents on street art in general and in particular your projects in Berlin?
Kimo: Feedback from local residents varies. Art is about subjective taste and it is completely normal that not everyone likes everything. Even though we mostly get very positive feedback about our work, there are of course always people who hold something against it for different reasons. Haters gonna hate.
Berlin's new Open-Air Gallery: Where the works of art can be found