Interview with Maximilian Riehl, Managing Director of Medical Park Berlin Humboldtmühle
In our series, we present partners in our Berlin Health Excellence initiative, their specialities and their work in the medical tourism sector. Today: Maximilian Riehl, Managing Director of Medical Park Berlin Humboldtmühle
We are conscious of the fact that during the recovery process other aspects are also important in addition to medical excellence, especially when patients come to us from countries that are far away.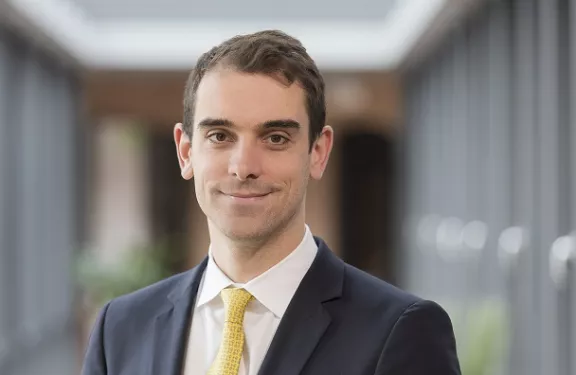 In which areas does the Medical Park Berlin Humboldtmühle deal with international patients and the persons accompanying them? And how are you personally involved?
The Medical Park Berlin Humboldtmühle is widely known both domestically and abroad as a specialist clinic for orthopaedics and neurology. In addition to German patients, we also treat international patients, especially from Arabic- and Russian-speaking countries, who seek rehabilitation and follow-up treatment in accordance with the latest procedures and state-of-the-art technology. We are able to guarantee this treatment in our clinic especially through the interdisciplinary cooperation of the two specialist departments orthopaedics and neurology as well as the extensive diagnostic possibilities at the highest medical and scientific level. I see it as my personal responsibility to be a good host for patients who travel from their home country to spend several weeks or months with us. We can only perform our work well when we have an awareness of each country of origin and the cultures of our international patients. That is why it is important for me to be well-informed about the current situation in the country, its religions and cultural traditions so I can be an effective contact person for patients' questions, critiques and requests.
What particular services does the Medical Park Berlin Humboldtmühle offer international patients and their accompanying persons?
First and foremost, we offer our national and international patients state-of-the-art medicine for the treatment of strokes, multiple sclerosis, after craniocerebral trauma, after surgical interventions and injuries to the musculoskeletal system. We are conscious of the fact that during the recovery process other aspects are also important in addition to medical excellence, especially when patients come to us from countries that are far away. An atmosphere in which patients feel comfortable, can eat good food and keep performing familiar rituals, is very important and provides them with a sense of security – having balance is especially important when the body requires plenty of energy for its rehabilitation. That is why our suites offer ample space for accompanying persons, our cooks and service staff can accommodate special cultural practices when preparing food and enable patients to receive meals in the late evening and at night during Ramadan, for example. Our clinic has an International Medical Department which takes care of the needs and concerns of international patients and offers supports with all organisational matters before, during and after their stay at the clinic. The team of Arabic and Russian native speakers help to overcome linguistic barriers. Another advantage is of course the location of the clinic – on the shores of Lake Tegel, surrounded by greenery, yet within easy driving distance by car or on public transport from the city centre and all its most popular sights.
Are you planning new measures in the Medical Tourism sector? Can you share your vision with us?
It is our objective to further establish the Medical Park and our clinic's location as an international brand. We would like to welcome guests from all over the world to our clinic and to offer them our state-of-the-art rehabilitation programmes. We are constantly making further improvements on site: We completed an additional lounge area last year for international patients, which provides a retreat for patients and accompanying persons. In the future we would like this location to grow. We are currently seeking approval for a planned new building with additional patient and treatment rooms. In general, I see enormous potential for Berlin as the medical capital of Germany. Being a rehabilitation clinic close to the city centre means we are an important part of this.
Click here to find out more about the Medical Park Berlin Humboldtmühle on our website berlin-health-excellence.com
More information