Visitor and congress statistics 2019
Visitor statistics 2019
Berlin remains a popular travel destination with around 14 million visitors (+3.4%) and around 34 million overnight stays (+3.8%)
Berlin is the third most popular destination in Europe (after London and Paris)
Origin of guests: 54.6% domestic, 45.4% international
Overnight stays of international guests: 15.5 million
Overnight stays by guests from Germany: 18.6 million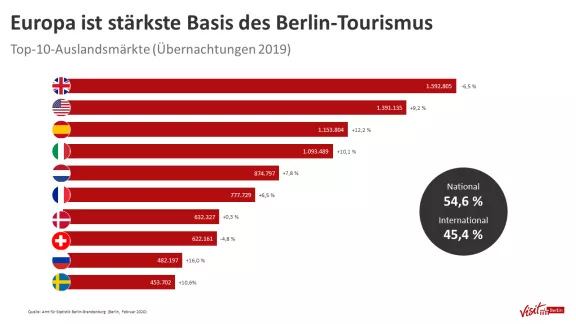 The Berlin tourism industry ended the year 2019 with an increase of 3.8 per cent in the number of overnight stays. From January to December 2019, around 14 million guests visited the city. That is 3.4 percent more than the previous year. The number of overnight stays rose to 34.1 million. This represents an increase of around 1.25 million overnight stays and 460,000 guests. The capital was especially popular among Germans: Around 8.5 million visitors from Germany (+4.7%) stayed in Berlin for 18.6 million nights (+4.7%). In contrast, the UK, which remains the largest international market, developed negatively, partly due to the influence of Brexit. With around 1.6 million overnight stays, 6.5 per cent fewer guests from the UK visited Berlin compared to 2018. However, double-digit growth rates from strong volume markets such as the USA, Spain and Italy can counteract a general negative trend.
Congress statistics 2019
Berlin continues to be regarded as a very attractive and dynamic destination for conventions and meetings both nationally and internationally.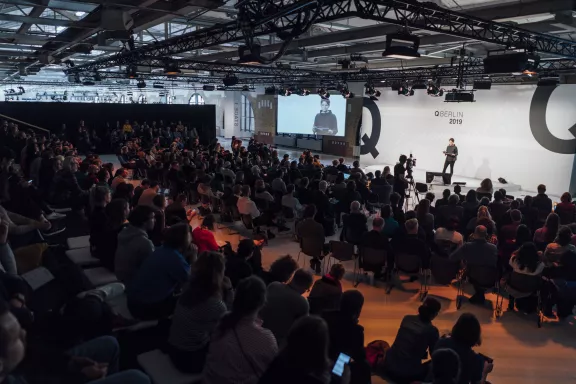 Berlin is once again among the world's Top 5 organizers of international association congresses. This is shown by the current statistics of the "International Congress and Convention Association" (ICCA). Last year, Berlin was the venue for 162 congresses of international associations. Paris is in first place with 212 events. It is followed by Vienna (172 congresses), Madrid (165 congresses) and Barcelona (163 congresses). The ICCA statistics are among the most important benchmarks in regards to international association congresses worldwide. It has an influence on the award decisions of many large congresses.
Additional facts:
Berlin is again among the top 5 convention destinations worldwide in the leading international ranking
As a member of the "Best Cities Global Alliance", Berlin is active in a unique international network of 12 leading congress destinations worldwide
A total of 610 events, including 79 congress bids, were handled by Berlin Convention Office's (BCO) conference and congress marketing in 2019
Launch of the platform "Sustainable Meetings Berlin" for sustainable event management in Berlin
Expansion of the MEET+CHANGE program offering social and cultural spaces for conferences
Third edition of Q BERLIN - around 800 guests attended the Berlin Conference on Freedom and Responsibility