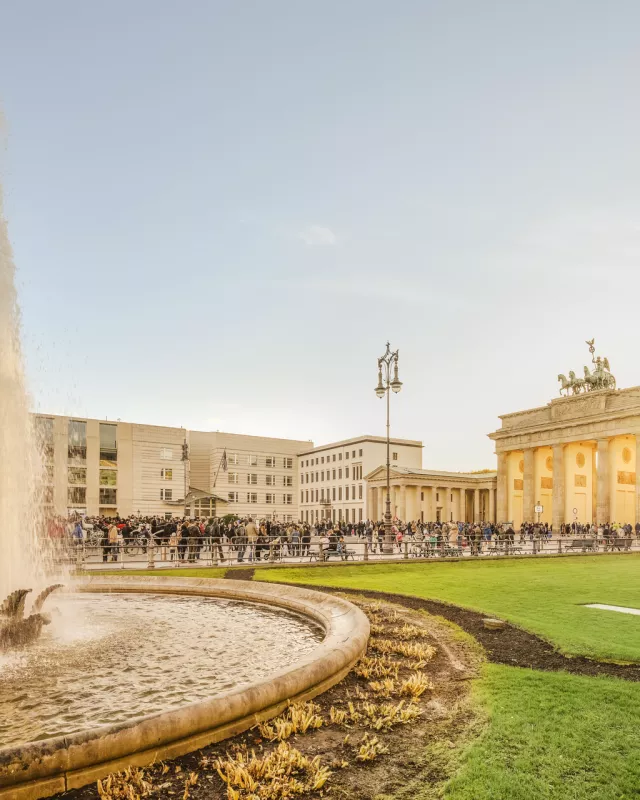 8.5% more nights spent by foreigners in Berlin in the first half of 2015 / UEFA Champions League matches in June result in record growth
Berlin Tourism figures for the first half of 2015: strong growth in international guests
Berlin, 12 August 2015 Berlin continues to grow in popularity with guests from abroad: the number of nights spent in the German capital by foreign guests increased by 8.5% in the first half of 2015, as shown in figures released this month by the Amt für Statistik Berlin-Brandenburg. Overall, more than 5.8 million guests visited Berlin in the first six months of the year (+4.9 %), spending 13.8 million nights (+4.8 %) in the capital. June saw higher than normal figures this year thanks to the UEFA Champions League finals held in Berlin for the first time; June 2015 saw 15.5% more nights spent by foreigners over last June.
Cornelia Yzer, Berlin Senator for Economics, Technology and Research: "Berlin once again has surpassed tourism records in year-over-year statistics in the first half 2015. Berlin thus remains one of the world's fastest-growing cities in the tourism business. The high growth, especially among international guests, shows that we have been able to establish the German capital internationally as a tourist destination and have increased the attractiveness of Berlin in new markets."
"A rising number of guests from abroad are discovering Berlin, our years of hard work in international markets are starting to pay off," says Burkhard Kieker, CEO of visitBerlin. "We are seeing impressive numbers, especially from Asia and Brazil. Never before have there been so many visitors from these countries coming to Berlin as in the first half of this year."
Berlin a trendy destination for international visitors – strong growth from overseas
The city continues to grow its numbers of intercontinental visitors. Overnight stays by visitors from many Asian countries as well as from Israel in particular rose sharply (China +30 %, Israel +24.7%, South Korea +44.6%). There has also been massive growth in overnight stays spent by guests from Brazil (+27.7%). The number of guests from the United States, the strongest foreign market, grew by another 16% over the previous year.
Record growth in June
June saw above-average increases of 60+ per cent in guests coming from the Arab Gulf States (+ 8.5%) and China (+60%). The strong European core markets helped push Berlin's tourism figures for June to a new record, especially guests from those countries whose teams took part in the UEFA Champions League final: (Spain +51.7% and Italy +15.4%) and from football-mad Portugal (+62.9%). The average stay in the first half of the year was 2.4 days (2.7 days for foreign guests). Overall, guests had 817 accommodation establishments and 141,254 beds to choose from.