Heading towards the future: How Berlin's tourism and event industry is embracing the megatrends of our time
Berlin, January 2023 What does the future look like for us? Do we know how our work will be and how we would live? What does the travel scene look like? What people refer to as megatrends today are shaping the world of tomorrow. Futurologist Anja Kirig called these long-term, fundamental developments "avalanches in slow motion" in her presentation for the TourismusHub, visitBerlin's e-learning tool. She presented some megatrends that seem to be playing a key role in tourism - and as such, also for Berlin itself given that it is one of the world's top tourism destinations.
What sets megatrends apart from hypes and fads?
In contrast to more short-term developments, megatrends have an impact over much longer periods of time. The renowned Zukunftsinstitut, where Anja Kirig works closely, evaluates these trends to span at least a few decades. Megatrends are indeed global phenomena and exert an influence on all areas of life, for example society and its value system, politics, media and consumer behaviour. In addition, they are typically highly complex and interconnected, which can further amplify their impact.
The twelve megatrends of this day and age
The Zukunftsinstitut has discerned twelve Megatrends that are shaping the way our lives and our world are evolving. They include socio-demographic phenomena such as the so-called gender shift, like the steadily fading relevance of traditional gender roles. People are already well aware of the concept of globalisation, for example. This megatrend is associated with a growing interconnectedness that spans across the globe and the ever more intensive interactions on a personal as well as on an economic, political and cultural level.
Megatrends and tourism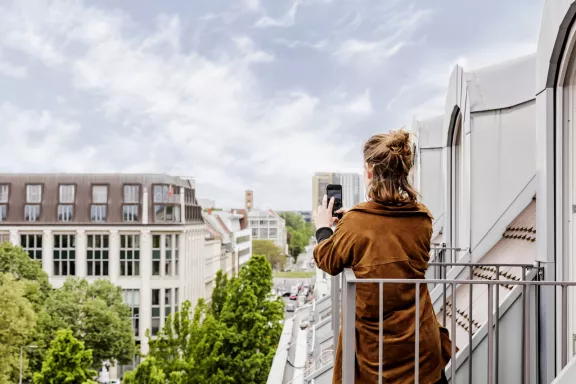 Individualism
 
Which megatrends are especially germane to tourism? Anja Kirig talks about individualisation, for one thing. It means that people are enjoying greater freedom in all areas of their lives than ever before. Exaggerated, however, this can lead to them becoming alienated from each other, which in turn creates a new longing for connection. When applied to travel behaviour, this gives rise to the notion of resonance tourism. Travellers want to relate to their destinations and let them have an impact on them. Formative experiences hold more appeal than short-term experiences. Meeting people and knowing the stories behind all the sights gets more traction than just visiting sites and taking selfies.
Neo-ecology
This term stands for a fundamentally changed view of the global ecosystem. Humans are no longer perceived as consuming, and in some cases even endangering, but rather as part of the Earth's ecosystem. New technologies are no longer threats to the environment, but are designed as solutions to its problems. Moreover, ecological responsibility is no longer associated with renunciation, but with environmentally friendly alternatives. When translated into tourism, neo-ecology means that travellers as well as hosts are aware of their responsibility and that environmentally friendly alternatives are put in the forefront instead of restrictions and prohibitions.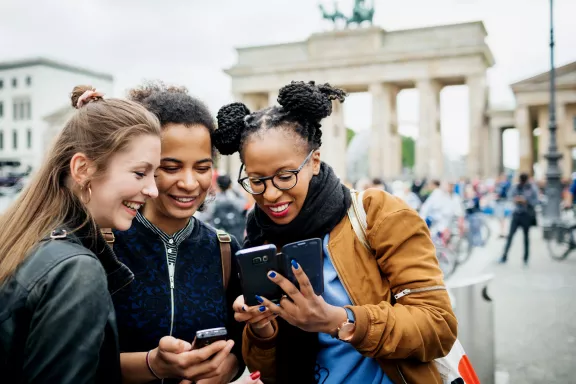 Connectivity
Connectivity describes the networking, partly the merging of the physical and virtual world. Digitalisation paves the way for completely new possibilities. What this means for travellers, for instance, is that they can experience their destinations in new dimensions with value-tainment formats and virtual reality and enter into resonance and interactions with people and objects alike. On the other hand, hosts can also learn more about their guests and get to know their preferences more easily than ever before. And connectivity also provides new ways for citizens to participate in decisions about their city and its development as a destination.
How the tourism industry and visitBerlin are harnessing the megatrends
Another megatrend: New Work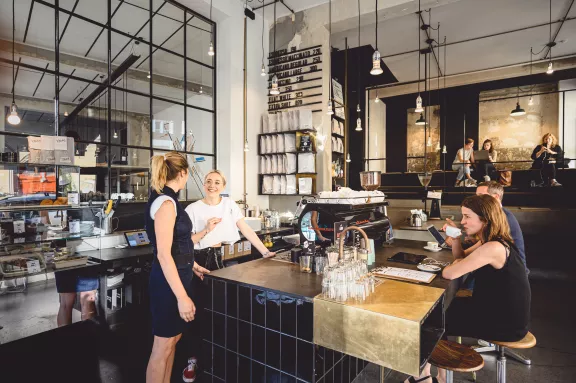 It is not just since the corona pandemic, but most definitely accelerated by it, that new forms of working are gaining ground. No wonder, therefore, that the Zukunftsinstitut has identified New Work as another megatrend. Mobility is an essential factor here. A growing number of activities can be carried out remotely, i.e. theoretically from anywhere in the world where there is an internet connection. This makes models like workation come into play. No one longer has to take leave to travel to holiday destinations. Just take a laptop, work and get to know new countries and people along the way. The city offers a wealth of different Coworking Spaces, some combined with gastronomic offerings or even childcare. Hotels like The Social Hub are designed specifically for "digital nomads" who are not only at home on the road, but also at work on the move.