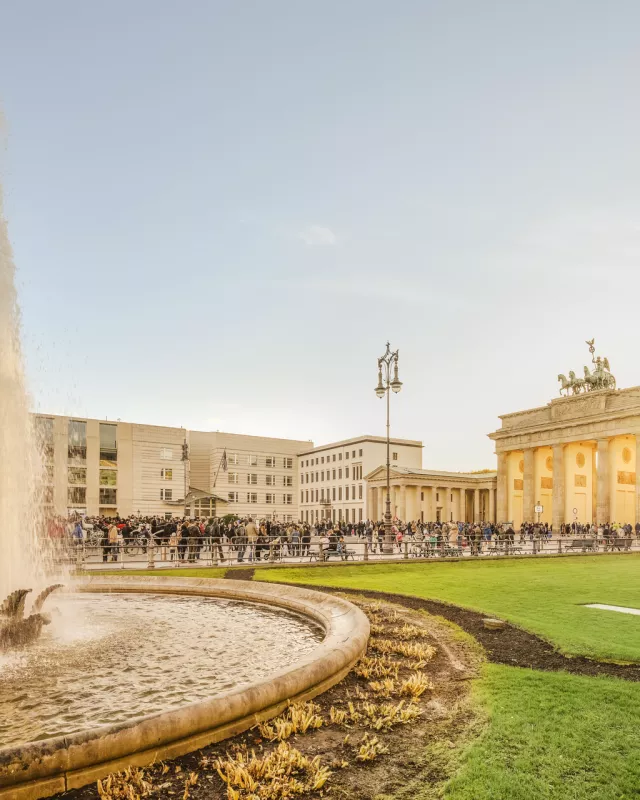 With the pink pillow Berlin Collection, visitBerlin is participating in a series of events for the Christopher Street Day celebrations
"Pride Weeks" in Berlin: Events throughout the city
Berlin, 27 June 2016 Over the next few weeks, Berlin will be sparkling in rainbow colours once again. This year, the city's Pride Weeks will extend for three weeks. From 2 to 24 July, lesbians, gays, transgender, bisexual, intersexual, and heterosexual people will gather in Berlin to celebrate and advocate a tolerant and open-minded society. Christopher Street Day (CSD) on 23 July is considered the highlight of the Pride Weeks, but more than 200 additional cultural, political, and sporting events are excellent occasions to celebrate and demonstrate together. The pink pillow Berlin Collection initiative from visitBerlin will participate in this array of events.
The Pride Weeks will be launched on 1 July at Nollendorfplatz, with the rainbow flag hoisted again this year as a symbol against homophobia and transphobia. Berlin's governing mayor, Michael Müller, will officially open the series of events.
Use hashtag #PinkPillowBerlin – win a hotel voucher
Have you ever given an open-air hotel bed a whirl? At the Lesbian-Gay City Festival, visitors are very welcome to rest a little at the pink pillow Berlin Collection stand and to make themselves comfortable on a mountain of pink-coloured cushions. There are also prizes to be had – if you take a selfie and share the image on Twitter under the #PinkPillowBerlin hashtag, you have a good chance of winning a hotel or breakfast voucher or other prizes!
Ship ahoy! A whole rainbow fleet is set to sail for the "CSD on the Spree" on 21 July. Ten boats will be sailing down the Spree under the motto of "dance, flirt, demonstrate". The pink pillow Berlin Collection will add its own boat to the flotilla. Remaining tickets are available at: shop.csd-auf-der-spree.de.
Berlin hotels join the fun with pink pillow Berlin Collection
A hotel network for gay and lesbian guests: Founded in 2013, the pink pillow Berlin Collection is a globally unique network of Berlin hotels with 58 LGBTI-friendly establishments. The collection unites hotels that have one thing very close to their hearts: that all guests be free to be themselves and that all guests feel safe and welcome. This unique project makes Berlin the first major city in the world with a sustainable LGBTI programme in the hotel industry. If you haven't yet booked a room for the Pride Weeks, take a look at the pink pillow homepage for great places to stay.
For more information, stories and photos about "gay Berlin", visit gay.visitBerlin.com and press.visitBerlin.de/en/news-release/Berlin---Europe's-Queer-Capital, plus the #PinkPillowBerlin hashtag.