visitBerlin and easyJet launch strategic partnership
easyJet's commitment strengthens Berlin's touristic development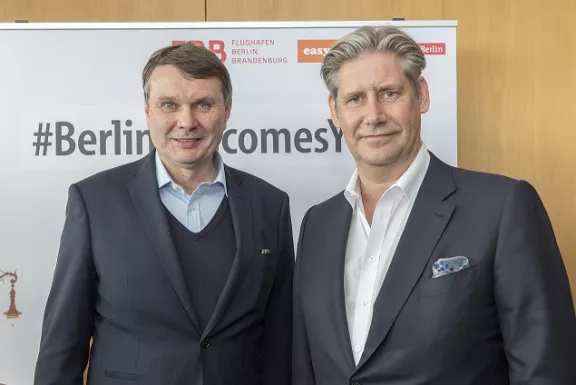 Berlin, 27 March 2018 easyJet, Europe's leading airline, has today announced a long term partnership deal with visitBerlin, the capital's official promotional organisation, which will see the airline become one of its main transport partners. The airline will join forces with visitBerlin to promote tourism in Europe and Germany to Berlin. The deal builds on a €5m advertising campaign by easyJet to launch services to and from Berlin Tegel.
Through the first ever strategic partnership, easyJet and visitBerlin will develop different areas of collaboration, from creating and spreading great local content that will inspire the world to visit Berlin and experience its culture, people, atmosphere and lifestyles to digital and social media activities. Additionally the partnership will generate revenue for visitBerlin through the sale of the Berlin WelcomeCard on board and we will exchange information to continuously develop the network and services. The campaign #berlinwelcomesyou, which will run from summer onwards, will act as an umbrella brand to help travellers get the most out of exploring Berlin.
Last year easyJet flew 3.5m international passengers into Berlin. That is more than any other airline including Lufthansa and with our expansion at Tegel this will increase by 60% year on year to 5.6m visitors.
Thomas Haagensen, easyJet's Country Director for Germany, Austria & Switzerland: "Berlin is such an important destination in the German market and remains popular with our customers throughout the entire network. This first ever strategic partnership with visitBerlin will seek to explore different areas of collaboration in order to show everything Berlin has to offer to the great diversity of easyJet's passengers."
Burkhard Kieker, CEO of visitBerlin, added: "The engagement by easyJet is great facilitator for the economic and the touristic development of Berlin – which is a great occasion to establish the first strategic partnership between the capital's official promotional organisation and an airline. With the hashtag #berlinwelcomesyou we will join forces to promote tourism in Europe to Berlin."
For further information, please contact:
visitBerlin
Christian Tänzler, Press Spokesman
+49 (0)30 26 47 48 – 912
christian.taenzler@visitBerlin.de
easyJet
Press Office
+44 (0) 1582 52525
www.easyJet.com
Useful information