Short distances for guests: sustainably discover Berlin's neighbourhoods within a 15-minute radius of the hotel
Concept of the 15-minute city applied to tourism for the first time in Berlin
A big step towards more sustainability
Berlin, 4 November 2022 A concept originally designed for urban planning is opening up new perspectives for sustainable tourism in Berlin. The idea of the 15-minute city is that everything that residents need for daily life can be reached within 15 minutes on foot or by bicycle. Translated for Berlin tourism, this means: gastronomic, cultural and shopping highlights are available within a 15-minute walk of a participating hotel. This way, Berlin's guests can travel in an environmentally friendly way and at the same time experience authentic neighbourhood life up close.
Short distances for more sustainability
What is new about Berlin's implementation of the 15-minute city is the tourism context. As part of Berlin's restart programme after the pandemic, it is intended to give tourism in the capital a new impetus in general. On the other hand, the innovation is also a further major step in Berlin's development into a more sustainable travel destination. Under the motto "short distances", 24 hotels throughout the city are currently part of the concept. On the visitBerlin website visitberlin.de/en/15-minute-city, interested visitors can find an overview and information on gastronomy, culture and shopping within a 15-minute radius of the hotels. visitBerlin flanks the topic with a social media campaign.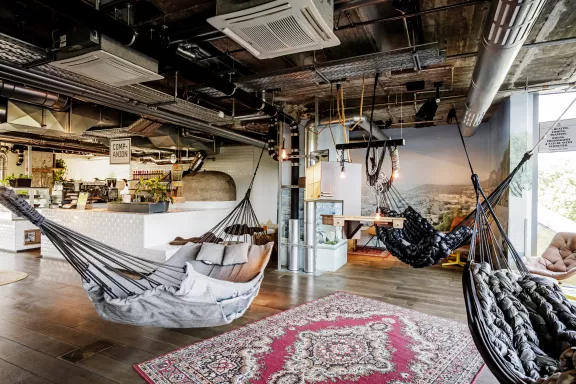 Locations in all parts of the city
The participating hotels are spread all over Berlin and show, each in its own way, very different facets of the city. These include, for example, the Bett und Buch Hotel near the old town of Köpenick or the Hotel Lindenufer in the old town of Spandau as perfect starting points for discovery tours away from the city centre. The 25hours Hotel Bikini Berlin and the art'otel berlin kudamm are both located in the immediate vicinity of Kurfürstendamm and thus within easy reach of exclusive stores and famous gastronomic and cultural highlights. In the Kollwitzkiez, you can stay at the Hotel Oderberger, a listed historic city bath, and experience a variety of cool bars, restaurants and hip shops within a 15-minute radius. Shopping is especially cool in winter and at Christmas time: information and inspiration about Berlin shopping experiences can also be found at visitBerlin.de/en/shopping. In Dahlem, on the other hand, there is the Seminaris CampusHotel Berlin in one of the city's greenest neighbourhoods. In its vicinity, guests will find places steeped in history, parks and museums.
Many cities in one
Berlin is virtually predestined for the idea of the 15-minute city. The concept is that instead of concentrating on a single centre, several small cities are created in which people can find everything they need for daily life within short distances. And due to its different districts and neighbourhoods, not least because of the decades-long division into East and West Berlin, such a decentralised approach is nothing entirely new in Berlin anyway. It is not far to a city life that is considerate of the environment and people.
The idea originally comes from Paris
Professor Carlos Moreno, an expert on smart cities at the Sorbonne University in Paris, first presented the idea of the 15-minute city in 2016. All necessities of everyday life - work, culture, education, health - should be within walking or cycling distance in a maximum of 15 minutes. The advantages of this approach are obvious: a large part of car traffic becomes superfluous, which improves air quality, reduces noise emissions and protects the climate. Local shops and businesses are also supported. And last but not least, the residents' sense of connection and responsibility for their neighbourhood increases. In short: environmental pollution decreases and the quality of life increases.
For more information, visitBerlin.de/en/15-minute-city
You can find out more about visitBerlin's commitment to city-friendly and sustainable tourism development at about.visitberlin.de/en/Sustainability.