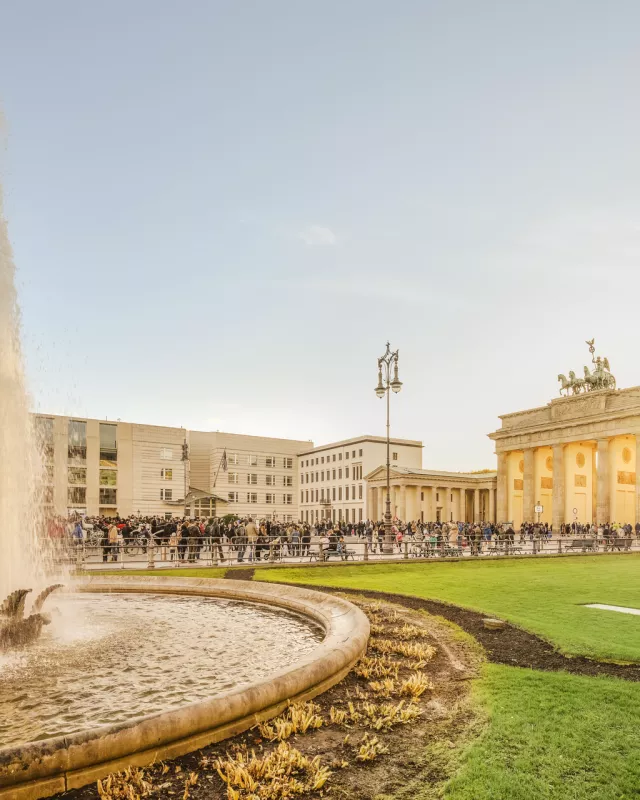 The action might be in Brazil, but the party's in Berlin: the fan zone and public viewings bring in the football fans
Berlin celebrates the World Cup
Berlin, 13 June 2014 Everything in Berlin revolves now around the 2014 FIFA World Cup™ in Brazil. The German national team is fighting for victory in Brazil while the fans are cheering them on in the German capital. During the World Cup, public viewings of the matches and Brazilian-themed events ensure the entire city will catch the football spirit.
Fan mile at the Brandenburg Gate
The biggest football party in all of Germany is taking place on Straße des 17. Juni between the Brandenburg Gate and the Victory Column. Seven gigantic screens are provided. The fan mile will open when Germany goes up against Portugal in its first match on Monday, 16 June. Until the final on Sunday, 13 July, up to 500,000 fans per game are expected to turn out. All of Germany's matches in the group round will be shown, followed by all of the matches from the second round. The gates open each day at 1.00pm. Admission is free.
Public Viewing and Brazilian Rhythms
Another highlight in Berlin for this year's World Cup: up to 3,000 fans are invited to sit back and enjoy the games from the comfort of sofas at Stadion der Alten Försterei. An additional 10,000 fans can take a seat in the stands. More information at www.wm-wohnzimmer.berlin.
The city's beach bars are also celebrating the World Cup big time: Badeschiff Berlin is bringing the flair of Copacabana Beach to Berlin with caipirinha, sandy beaches and the World Cup. Entry from 4.00pm, no admission charge. Other beach bars are listed at summer.visitBerlin.com.
In addition to bars and pubs, Berlin's hotels are also offering their guests and other fans the opportunity to see the World Cup live. These include the InterContinental Berlin, Hotel Palace Berlin and the H'Otello K'80 Berlin. Copa da Cultura 2.0 will be held at the Haus der Kulturen der Welt from 12 June-13 July and will combine live Brazilian music with World Cup broadcasts.
An overview of all public viewing sites can be found here. The World Cup is a big deal for a sports city like Berlin. For more information about sport and football in Berlin, go to sport.visitBerlin.com and football.visitBerlin.com.