Q BERLIN – Our media service
The official metropolitan conference of the city of Berlin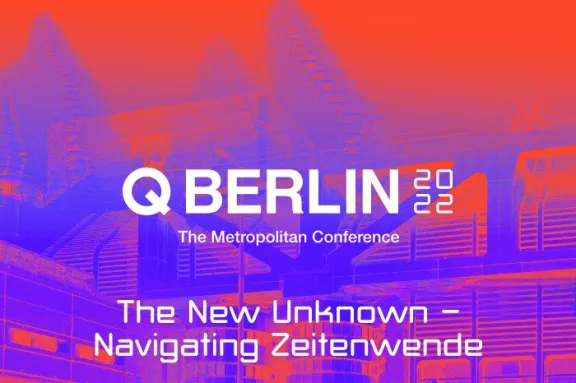 With Q BERLIN, the city has been inviting national and international mayors and other thought leaders and experts from politics, business, science and culture to its own conference in the German capital since 2017. Q BERLIN is Berlin's annual metropolitan conference for global dialogue and discourse on the most pressing issues of our time.
Q BERLIN 2022 on September 15 & 16 at the ICC Berlin
Under the title "The New Unknown - Navigating Zeitenwende," this year's conference will focus on current global crises such as the war in Ukraine, the Covid 19 pandemic,the inflation or the climate crisis. On the first day, the conference topics will be addressed in short keynote speeches and dialogues; on the second day of the conference, they will be further discussed in Deep Dives.
Q BERLIN is curated and organized by visitBerlin and sponsored by the Berlin Senate Chancellery. It is hosted by the Governing Mayor Franziska Giffey.
Highlights of Q BERLIN 2022
Press Material Q Berlin 2022
Accreditation
We would be delighted to welcome you to Q BERLIN 2022. For press accreditation, please email your full name, your email-address, and your media outletto director@q.berlin.
Press Archive: Q Berlin questions 2017 to 2021
Press Contacts
Downloads
Printable images and graphics for editorial coverage are available here:
Bilder der Konferenz-Location, das ICC Berlin
Logo der Konferenz
weitere Visuals der Konferenz
Eindrücke der Konferenz "Berlin questions" aus dem Vorjahr