visitBerlin at ITB 2018
ITB 2018 – Berlin takes visitors back to the 1920s
Visitors to ITB Berlin from 7 to 11 March will experience a journey back in time to the legendary Berlin of the 1920s at the joint Berlin-Brandenburg stand in Hall 12. To mark the debut of the TV series "Babylon Berlin", the turbulent era between the two world wars will come alive with a historic street scene. Visitors can deck themselves out with period accessories and take a seat in an original vehicle.
The 1920s left their mark on Berlin and its worldwide reputation as a city of freedom to this day. "Babylon Berlin" was shown on German pay TV network SKY in October 2017 and was a big hit. It aired on Sky Atlantic in the UK in November and debuted on Netflix in the United States in January. The series takes place in the 1920s and was shot on location around the city. visitBerlin hopes to see positive effects for tourism: around ten percent of Berlin's guests are inspired to visit the city by films and series shot in Berlin.
Berlin cultural partners present themselves at the ITB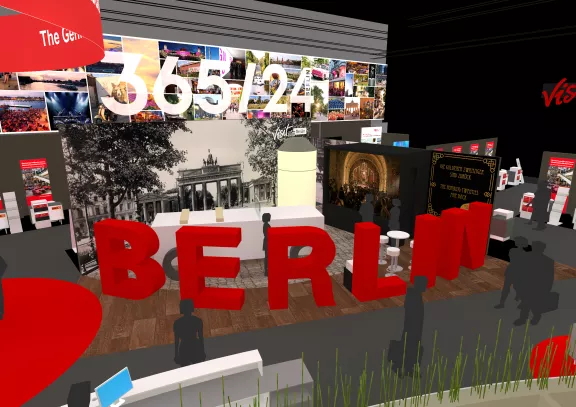 The coming years will see new buildings open in Berlin that will expand the cultural offerings around the Museum Island. The Humboldt Forum is a part of this expanding cultural centre. Visitors can get a first impression of this important project in a special display at the Berlin stand at ITB. Other cultural partners at ITB will be the Bauhaus Archive and Zeiss Planetarium. Kulturprojekte Berlin is also providing information on activities planned to mark the anniversary of German reunification. For the first time, Hotel Oderberger and Hotel Capri by Fraser will be among the 32 partners at the joint Berlin-Brandenburg stand.
Accessible Berlin: new features on the "accessBerlin" app
The "accessBerlin" app has a fresh update just in time for the ITB: from now on, it will also offer people with visual impairments tools to help them explore Berlin with their smartphones. "accessBerlin" offers tours of accessible attractions and  sights.