Sustainable Food Trends: Berlin's Green Cuisine
Whether it is vegetarian Michelin-star restaurants, zero-waste cooking, clean eating or simply using the best organic and regional produce available, the German capital sets trends in sustainable dining.
Vegetables Are The Stars Of The Show
Times and tastes are changing: the real food trend hunters and gourmets are now going for meat-free. Not long ago, Berlin would have been called a haven for meat-lovers, and while meat also goes through a sustainable renaissance with high standards to origin and animal welfare, more and more chefs put vegetarian and vegan fare high up on their menus. A trend, that doesn't stay unnoticed: The prestigious US magazine "Saveur" named Berlin the world's new capital for vegetarians in late 2015. The vegan food app HappyCow.net equally voted Berlin the number one vegan-friendly city in the world.
Berlin's plant-based fine dining scene is earning the city a reputation amongst vegan and non-vegan gourmets worldwide. Since 2007, Cookies Cream has proven that vegetarian haute cuisine does not necessarily lead to a niche existence. Together with nightlife icon "Cookie", chef Stephan Hentschel set up the vegetarian restaurant above "Cookies", one of the most famous clubs in the city. In boxes filled with organic soil, they plant fennel, blueberries and heirloom tomatoes in their own courtyard garden - it can't get any more local. Hentschel's courage has paid off: in 2017, he became only the second chef in Germany to be honoured with a Michelin star whilst serving an exclusively vegetarian menu. cookiescream.com
In Prenzlauer Berg, female chef Josita Hartanto has also earned her entry in the pages of the Guide Michelin with her exclusive vegan restaurant Lucky Leek. She shows her skill with such innovative flavour combinations as teriyaki balls, potato-leek-tartelette, jerusalem artichoke purée with pumpkin and pear and desserts like cheesecake crème brûlée. lucky-leek.com
In Mitte's former Jewish quarter, Kopps. still holds its crown as institution for vegan gourmets looking for local healthy food with an edge. It was the first high-end restaurant daring to serve a menu without any animal products and continues to dish up innovative recipes made from seasonal, organically farmed ingredients. The early evening "Come Together"s (3 courses for only 15 euros) as well as the celebrated brunch buffet on weekends (4-course brunch for 20 euros).. kopps-berlin.de
Streetfood fans don't need to abstain from döner & co: Vöner offers soy and seitan kebabs, organic fries and homemade sauces. Berlin's currywurst institutions like Bergmann Curry or Konnopke's meanwhile serve the famous sausage in its meat-free version. For those craving a hearty "boulette" (meatball), TofuTussis do a flavorsome tofu-based alternative, topped with smokey barbeque sauce and produced on the spot in the basement of Markthalle Neun. Besides, their vegan burgers with charcoal and beetroot colored buns attract the crowds at festivals and markets throughout town. bergmann-curry.de , konnopke-imbiss.de , tofutussis-berlin.de , voener.de/
In 2016, Berlin's first vegan butcher set up shop in Friedrichshain: L'herbivore offers anything a vegan might crave for, such as sausages, burger and "meat" made in house from seitan, soy and tofu. At the bistro, all seasonal creations can be tasted right away. Followed by an outlet of the Dutch vegetarian version Vegetarischer Metzger on Kreuzberg's Bergmannstraße, the demand has grown and after a successful crowdfunding campaign in autumn 2017, the Vetzgerei opened its doors at Helmholtzplatz in Prenzlauer Berg. Shaping a new interactive eating culture, they also offer fermentation workshops, vegan wine tastings and dinner events. lherbivore.de , der-vegetarische-metzger.de , dievetzgerei.berlin
Berlin's current league of vegan entrepreneurs is mastering niche concepts. From vegan pizza at La Stella Nera to vegan porridge at Haferkater or vegan tapas at Alaska, the focus lies on one major product, but doing that really well. One of the most successful examples is Brammibal's Donuts, where a tempting selection of vegan donuts is made fresh every morning without using any artificials. What started with a sold-out stand at a vegan food market has now grown into three busy locations spread across the city. lastellanera.de , haferkater.com , facebook.com/alaskabarberlin , brammibalsdonuts.com
For a healthier start into the day, Berliners sneak into a hidden backyard on Brunnenstraße and, after an invigorating yoga session at Jivamukti Berlin, take in the vegan feel-good food from the downstairs Canteen. Advocating a pure and balanced lifestyle, this is the place for your superseed banana bread, shiva porridge and smoothie bowls. No need to get on the mat: many guests come only for the daily changing lunch options. jivamuktiberlin.de/canteen
Berlin's Kitchens Go Zero Waste
Stopping food waste is one of the most pressing issues of our society. Still, all too often overproduced food, crooked vegetables and 'ugly' fruit, or groceries that are good to eat but reach their expiry date end up in bins instead of bellies. Sure enough, Berlin has its own creative ways to tackle this.
With FREA, the world's first plant-based zero waste restaurant is set to open its doors early 2019 on Torstraße. Berlin's food scene eagerly anticipates this new restaurant cum store concept, which promises to operate free from any waste and work exclusively with organic produce. Food scraps will be composted and reused. Plastic will not even enter the space, as customers are encouraged to bring their own take-away containers. frea.de
At Dingsdums Dumplings, three young Berliners came up with a genius way to turn surplus ingredients into a hip street food dish. Whichever food needs to be saved every week is diligently folded into unusual combos like Bratwurst with wasabi cream, roastbeef with potato-speck-crunch, or feta cheese with kimchi. What started as a catering experiment quickly proved its stand, won a government award and opened a dumpling joint opposite Görlitzer Park.dingsdums.de/shop
The term "junk food" takes on a new meaning as a Berlin non-profit tries to change our broken food system. The Real Junk Food Project Berlin is part of a global network and takes a stand against food waste by collecting surplus produce from organic supermarkets and organizing open community dinners and zero waste workshops in Kreuzberg and Wedding. realjunkfoodberlin.wordpress.com
For Berlin's conscious gastronomy scene, there is more to it than the food itself. A social startup called Kaffeeform proves that the life of coffee grounds doesn't need to be over after it has been brewed with water: Founder and product designer Julian Lechner disappeared into his garage and re-emerged in 2015 with a unique recipe to turn coffee waste and other renewable raw materials into elegant coffee cups. Available as cappuccino and espresso cups or as reusable takeaway cup, Kaffeeform can be purchased throughout Europe. In Berlin, it can be found at Der Sache Wegen in Prenzlauer Berg or Hallesches Haus in Kreuzberg. Those who prefer to test Kaffeeform "in action" and filled with a high quality brew can stop by at Oslo Kaffeebar. kaffeeform.com/en , der-sache-wegen.de , hallescheshaus.com , oslokaffebar.com
A café that has been stocking Kaffeeform cups from day one is Isla Coffee Berlin. Not only is it a refuge for every speciality coffee connoisseur and serves excellent breakfast and brunch, it also set up its own circular system to minimize waste from food, water and packaging. Collecting the steamed milk leftovers from making flat whites and cappuccinos and turning it into yoghurt or cottage cheese is only one example of their commitment to leaving no trace. facebook.com/Islacoffeeberlin
As the EU said 'no' to single use plastics, a local startup called HALM is quickly bringing its robust reusable glass straws into cafés and stores throughout the city. Refill wants to enable people to refill their own drinking vessels in shops, bars, public institutions and many other places, thus, reducing the amounts of plastic waste. Participating locations in Berlin usually show a "Refill" sticker on their doors. halm.co , refill-deutschland.de
Slow Food, Bio And Other Sustainable Food Trends
A new generation of chefs and food innovators is reviving traditional German dishes and adapting them to the newly-arising nutritional consciousness. This trend is not only rooted in the city's organic boom, but first and foremost the slow food movement and a regained appreciation of regional produce. From forgotten local vegetables like parsnip, turnip or jerusalem artichokes to ecologically produced meat raised on virgin pastures, or sustainably caught fish from the Müritz - Berlin's new league of restaurant chefs sources its ingredients in the rural areas right in front of our doorstep. All focus is on strengthening relationship with local farmers and knowing where our food comes from.
Leading the way by living and breathing these values is restaurateur and sommelier Billy Wagner. In his Michelin-star restaurant Nobelhart & Schmutzig, Billy and his head chef Micha Schäfer took on the challenge to "do Berlin" - what doesn't grow here is not needed. Following this mantra, they only work with regional ingredients and, thus, support producers from Berlin and its surrounding countryside. A restaurant where the passion and respect for the produce is equally high is einsunternull. Owner and sommelier Ivo Ebert and head chef Andreas Rieger enthuse their guests with a unique cooking style, inspired by the local fields, forests and meadows. nobelhartundschmutzig.com , einsunternull.com
The relationship between humans, nature and nutrition lies at the heart of Contemporary Food Lab in Mitte. Apart from his two successful sustainably-oriented restaurants Katz Orange and Panama, founder Ludwig Kramer-Klett created a unique platform to explore issues around future nutrition, new food concepts and innovative entrepreneurship. Dinners, supper clubs, workshops and events are held at a regular basis. contemporaryfoodlab.com , katzorange.com , oh-panama.com
HERMANN's stands "for a good future of food". Founded by the granddaughter of Germany's prestigious cookie dynasty Bahlsen, it is a restaurant, test kitchen, events location and coworking space all in one. Through workshops, product launches, beta testing and creative food, it brings consumers, food innovators and the industry together to fix the things that went wrong in our global food system. hermanns.com
The future of food can also be found a few minutes down the road: at GOOD BANK guests can see the ingredients grow rather than their waistline. In the world's first "Vertical Farm to Table" restaurant, most of the salads and vegetables used are grown in vertical patches right behind the bar. The crunchy, green, futuristic climbing gardens are a feast for the eyes. The indoor farm reduces the use of water and long transport routes - a concept that takes sustainable sourcing to a new level and guarantees for fresh, nutrient-rich food for our growing urban populations. good-bank.de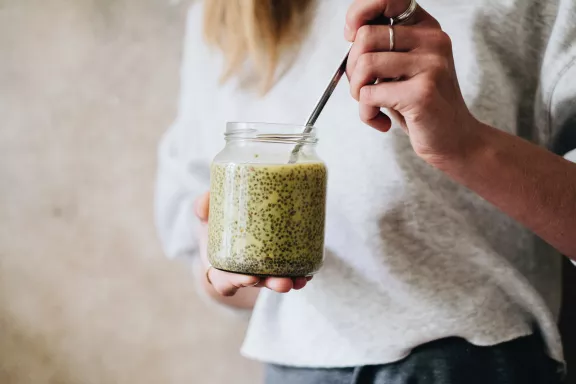 Clean Eating: Let Food Be Thy Medicine
Berliners favorite address for natural, unprocessed ingredients and superfoods is Daluma, a minimalist café that spearheaded the detox trend in the capital. The menu offers immune boosters, smoothies called 'Green Giant' or 'Dr. Feelgood', cold-pressed juices with beetroot, turmeric, coconut water, spirulina algae, or breakfast bowls with chia and acaí. Lunch is an equally nutrient-dense pursuit with a range of innovative vegan or raw food compositions. In Prenzlauer Berg, Liquid Garden is a charming juice and smoothie bar where green living couldn't be easier. All recipes are developed with a serious standard to taste and originality. The menu changes with the seasons, ingredients are fresh, organic and contain at least 50% greens. In front of Berlin's infamous Mauerpark, The Juicery Superfood Smoothies mixes up invigorating recipes - sometimes served in a coconut shell and better than any milk shake (and a lot healthier). daluma.de , liquidgarden.berlin , facebook.com/thejuicerysupersmoothie
Popular Farmers Markets And Market Hall Revival
Chefs and Berliners don't need to head out to the Brandenburg countryside to buy their green ingredients as regional producers bring fresh life to Berlin's organic markets. Every Thursday the ever-popular eco-market at Kollwitzplatz in Prenzlauer Berg sets up its stalls. Around 50 vendors offer anything from fruit and vegetables, meat from certified organic farming, cheese and freshly baked bread, to warming sheepskins, handicrafts or decorative linen made of natural fibres. On other days, locals don't have to get by without their eco fare: organic markets are held at Lausitzer Platz (Friday), Chamissoplatz (Saturday) in Kreuzberg, Dicke Linda farmers market at Kranoldplatz (Saturday) in Neukölln. The large farmers markets at Winterfeldtplatz (Wednesday, Saturday), Boxhagener Platz (Saturday) and Maybachufer (Tuesday, Friday) also sell produce from trusted eco labels such as Demeter and Bioland.
Some of Berlin's historic market halls experienced a big comeback through beautiful renovations and a new breed of artisanal vendors and producers. Marheineke Markthalle in western Kreuzberg's charismatic Bergmannkiez has been among the first to be restored and delights the city folks with an array of deli-style organic food stalls throughout the week. meine-markthalle.de/en
The Markthalle legend also persists in Kreuzberg's Wrangelkiez, where the Markthalle Neun with its stunning iron-beam supported ceilings was saved by by dedicated local merchants and entrepreneurs in 2009. After a long period of decline, where a discount grocery occupied the majority of the building, the hall transformed into a vibrant hub for all things organic, regional and seasonal. Its overall goals: proving that sustainably farmed produce from Berlin and Brandenburg can feed a large metropolis and reigniting an appreciation for small-scale artisanal production. Whether it is the sustainable meat from butcher shop Kumpel & Keule, the praised sourdough bread from Sironi or the hand-crafted cheese from Alte Milch: high-quality organic food is being made right in front of people's eyes, while the basement houses a tofu manufacture and the craft beer brewers from Heidenpeters. A range of creative theme markets and festivals, expert talks and cooking workshops breathes in even more life. It gets most crowded every Thursday evening (from 5–10 pm) when Street Food Thursday draws in Berliners and visitors in droves to sample delightful creations from all over the world. Excerpt from the menu: New Zealand pies, Brazilian tapioca pancakes, Taiwanese burgers, Korean tacos or Allgäu cheese spaetzle. markthalleneun.de
The beautiful Arminiusmarkthalle in Moabit equally dates back to 1891, and, despite renovations, still exudes its late 19th century industry charm. The vendors supply locals and other insiders with such treats as Italian salamis, homemade tarts, fresh fish, and barbecue from the smoker. Afterwards, you can meet up at the market bar Thussi & Armin for a glass of prosecco or Brewbaker craft beer. arminiusmarkthalle.com
Your contact